The Winter of Red Snow: The Revolutionary War Diary of Abigail Jane Stewart is a Dear America book by Kristiana Gregory. It was published in September 1996 and republished in September 2010. It was also adapted into a short film in 1999. Cannons at Dawn, a sequel to The Winter of Red Snow, was released in May 2011.
Dedication
"For Tim, Catherine, and Matthew Walker"
Book description
"December 19, 1777, Friday
I woke to sleet hitting the window and another sound I'd not heard before. A drumbeat. Papa came in from milking and said, "The soldiers are coming." ...Finally, through the gray, we saw them. Three officers on horseback led. We ran outside to cheer, but the men were quiet and thin. The sight of them took my breath away. "They have no shoes," Elisabeth whispered. We watched for several minutes as they passed by. We were unable to speak. Their footprints left blood in the snow. As I write this upstairs, my candle low and our room cold, I think I shall never again complain."
"My name is Abigail. This is my story....
Eleven year old Abigail Jane Stewart's life with her family is upended when Abby and her sisters are awakened by the unfamiliar sound of drums. General George Washington is leading the Continental soldiers into their winter encampment at Valley Forge, Pennsylvania. The presence of the army forces the town to face the realities of the Revolutionary War, and sides must be chosen. Hardship is a constant companion for soldiers and citizens alike throughout the winter, and in her diary, Abby pieces together the beauty, pain, and blessings of this long revolutionary winter."
Plot
Characters
Main article: List of The Winter of Red Snow characters
Adaptation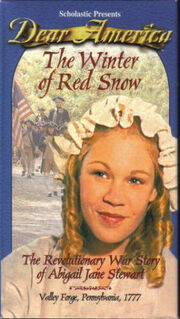 Main article: Dear America: The Winter of Red Snow
The Winter of Red Snow was adapted into a television film in 1999. The film was produced by Scholastic Entertainment and aired on HBO. It was released on video tape the same year. Elisabeth Rosen starred in the film as Abigail.
Author
Main article: Kristiana Gregory
Kristiana Gregory (born 1951 in Los Angeles, California) is a children's author. Her debut novel, Jenny of the Tetons won the Golden Kite Award for Fiction. Gregory has written five books in Dear America, three in The Royal Diaries, and three in My America.
Editions
Acknowledgements
"I'm deeply grateful to Pennsylvanians Betty Page of the Valley Forge Society, and Elsie Mullin, for their help with research. The recipe of "Martha Washington's Great Cake" was provided by The Women's Committee of the Valley Forge Historical Society, Valley Forge, Pennsylvania."
References
See also
External links