So Far from Home: The Diary of Mary Driscoll, an Irish Mill Girl is the sixth book in Scholastic's Dear America series. It was written by Barry Denenberg, his second in the series. The book was published in October 1997. It was adapted into a television film in 1999.
Dedication
Edit
"To the memory of my grandfather, Louis Denenberg"
Book description
Edit
"Friday, July 9, 1847
Lowell
Mrs. Abbott's house is so near the mills we were able to walk there.... I never dreamed earthly hands could make anything that big. It looked to me like all the people in Ireland could fit inside. 'Twas like a fortress. There were smokestacks blowing their blackness heavenward and darkening the sky. I felt cold although the day was warm. A shudder rippled through my body. There is nothing to be afraid of, I told myself. What could be worse than what I had already seen back in Ireland? I had to go through those gates."
Characters
Edit
Main article: List of So Far from Home characters
Adaptation
Edit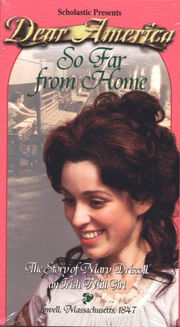 Main article: Dear America: So Far from Home
In 1999, So Far from Home was adapted into a short television film. The film was produced by Scholastic Entertainment and aired on HBO. It was released on video tape the same year. Laura Bertram starred in the film as Mary.
Main article: Barry Denenberg
Barry Denenberg (born in Brooklyn, New York City, New York) is a nonfiction and historical fiction author, known for writing biographies. He is the author five Dear America books, two My Name Is America, and one in The Royal Diaries series.
Acknowledgements
Edit
"The author would like to thank Martha Mayo at the Center for Lowell History for graciously sharing her intelligence and time."
References
Edit
Ad blocker interference detected!
Wikia is a free-to-use site that makes money from advertising. We have a modified experience for viewers using ad blockers

Wikia is not accessible if you've made further modifications. Remove the custom ad blocker rule(s) and the page will load as expected.