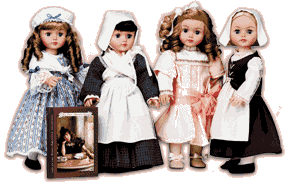 The Dear America Collection was a short-lived line from Madame Alexander consisting of four dolls That were released throughout 1999 and 2000.[1]
Each doll came with a blank Dear America diary and dressed historically accurate to their time period. The same face mold was used for each doll. Coincidentally they are around the same size as American Girl dolls and are able to fit American Girl clothes.[2]
There were four dolls in the line, namely:
References
Edit
Ad blocker interference detected!
Wikia is a free-to-use site that makes money from advertising. We have a modified experience for viewers using ad blockers

Wikia is not accessible if you've made further modifications. Remove the custom ad blocker rule(s) and the page will load as expected.