The subject(s) of this article is of a real-life person.
This article only covers a fictional portrayal of the person. Therefore, details contained in this article may differ from real world facts. For more information on the historical figure(s), consult the links provided at the bottom section of this article.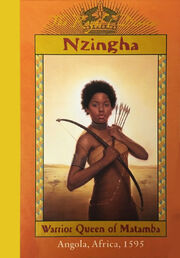 All the
characters
that appear in
Nzingha: Warrior Queen of Matamba
by
Patricia C. McKissack
.
Main characters
Edit
Main article: Nzingha
Nzingha Kiluanji of Matamba[1] (c. 1582[2] – December 17, 1663)[3] was the eldest daughter of Ngola Ndambi Kiluanji and his second wife, Kengela. She had two younger sisters Mukambu and Kifunji, and several half-siblings, including Mbandi.
Supporting characters
Edit
Kengela (c. 1560s – c. 1616), also spelled Kangela,[2] was the mother of Nzingha, Mukambu, and Kifunji. She was the second wife of Ndambi Kiluanji, the Ngola of Ndongo. Her village was burned down by the Portuguese, who planned to sell her. However, Ndambi attacked them and Kengela became a slave for his mother, before he fell in love with her. Many opposed the marriage since she was a "jaga" (outsider), so Ndambi married Kwumi and Kengela at the same time to please everyone.
Kifunji (c. 1587 – ?)[2] was the youngest daughter of Ngola Ndambi Kiluanji and Kengela. Her elder sister Nzingha described her as "happy", "loves to play", and "always busy with her hands."
Mukambu (c. 1584 – c. 1670s)[2] was Nzingha's younger sister. She was the second daughter of the Ngola with his second wife. Nzingha described Mukambu as "quiet" and a "thinker." Unlike Kifunji, Mukambu never teased Nzingha and always stood up for her.
Ndambi Kiluanji
Edit
Ndambi Kiluanji (c. 1560 – c. 1617)[2] was the Ngola (ruler) of the Mbundu people of Ndongo. He was the father of Mbandi, Nzingha, Mukambu, Kifunji, among others. Ndambi wished to take Kengela as his first wife, however several people opposed the marriage. To appease everyone, he married Kwumi and Kengela at the same time.
Njali was the leader of the "Chosen Ones," the King's royal guards. He was a warrior from Imbangala, until he was captured by Kiluanji and began working for him. Njali was close to Nzingha, whom he taught about fighting and weapons.
Minor characters
Edit
Ajala was an oracle, who knew "the secrets of this world and of the spirit world beyond." She was a good friend of Kengela and Nzingha. Ajala predicted that Nzingha would become Ngola.
Azeze
Father Giovanni Gavazzi[3] was a Portuguese captive. He taught Ngola Kiluanji the ways of the Portuguese. Giovanni also taught Mbandi, and secretly Nzingha and her sisters.
Kwumi
Epilogue characters
Edit
References
Edit
External links
Edit
Ad blocker interference detected!
Wikia is a free-to-use site that makes money from advertising. We have a modified experience for viewers using ad blockers

Wikia is not accessible if you've made further modifications. Remove the custom ad blocker rule(s) and the page will load as expected.