Isabel: Jewel of Castilla is the fourth book in The Royal Diaries, a series of fictional diaries by Scholastic. The book was published in July 2000 and was written by Carolyn Meyer. It was adapted into a short film in December 2000. The book was followed by Meyer's Anastasia: The Last Grand Duchess.
Isabel, a princess of Castilla and León (present-day Spain), is banished to live in Segovia by her half-brother, King Enrique.
Book description
Edit
Enrique, the current king of Castilla, forces his half-sister Isabel into exile with his vulgar wife Queen Juana. Meanwhile, Isabel's younger brother Alfonso gains support to become the true king of Castilla. In 1466, her half-brother schemes to have her betrothed to King Afonso of Portugal ("El Escorpión") and later Pedro Girón. She manages to narrowly avoid both marriages for the time being.
Ten months later, Isabel begins writing in her diary again. The boring monotony of castle life continues until Archbishop Carrillo comes to rescue her. Isabel begins to live in Arévalo with her mother and reunites with her younger brother. Several months later, Isabel accompanies Alfonso on a trip to Ávila to recruit new troops. Alfonso falls ill suddenly and dies, most likely of the plague.
Archbishop Carrillo encourages Isabel to inherit the rebel throne and to overthrow Enrique. Isabel refuses to become Enrique's rival and proposes a treaty. Enrique signs the treaty, which states that his heir is Isabel and that he will not pressure her to marry. Only months later, Enrique loses patience and tries to force her to marry El Escorpión again.
Isabel with the help of Carrillo and her other allies start negotiations for her to marry Fernando, current king of Sicily and future king of Aragón. Dressed as a monk, Isabel escapes and makes her way to Ávila to join the funeral procession for Alfonso. After the funeral, Isabel bids goodbye to mother and travels to Valladolid, where she meets her future husband, Fernando.
Characters
Edit
Main article: List of Isabel: Jewel of Castilla characters
Isabel, the daughter of the late King Juan. She lives in exile with her sister-in-law and niece in Segovia, until Archbishop Carrillo frees her to be with her mother in Arévalo.
Alfonso, Isabel's younger brother, whom many support as the true king of Castilla. Despite his young age, Alfonso takes his role seriously.
Adaptation
Edit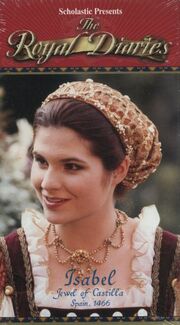 Main article: The Royal Diaries: Isabel - Jewel of Castilla
In 2000, Isabel: Jewel of Castilla was adapted into a television film. The film was produced by Scholastic Entertainment and aired on HBO. It was released on video tape the same year and on DVD in 2008. Lisa Jakub starred in the film as Isabel. The film follows the book with just a few character omissions.
Main article: Carolyn Meyer
Carolyn Meyer (born June 8, 1935 in Lewistown, Pennsylvania) is an American novelist of historical fiction. She is well known for her Young Royals series. Meyer is the author of three books in The Royal Diaries, including Anastasia: The Last Grand Duchess and Kristina: The Girl King.
Meyer traveled to Spain with her husband, a historian. They visited many of the towns Isabel once lived in, including Segovia.
NCSS/CBC Notable Social Studies Trade Book for Young People (2001) - recommended[6]
References
Edit
External links
Edit
Ad blocker interference detected!
Wikia is a free-to-use site that makes money from advertising. We have a modified experience for viewers using ad blockers

Wikia is not accessible if you've made further modifications. Remove the custom ad blocker rule(s) and the page will load as expected.