Dreams in the Golden Country: The Diary of Zipporah Feldman, a Jewish Immigrant Girl is a historical fiction book written by Kathryn Lasky. It is the ninth book in the Dear America series by Scholastic. The book was published in March 1998 and was followed by Standing in the Light. It was adapted into a television film in 1999.
Dedication
Edit
"For Nat and Lochi Glazer"
Book description
Edit
"March 11, 1904
I forgot to tell you that yesterday Boris said to me, "Well, Zippy, maybe some play that is coming up will need children and you can audition." I said, "From your mouth to God's ears, Boris!" Now I can think of nothing else. I told Miriam last night in bed my secret dreams of wanting to become an actress. She squeezed my hand. It was a squeeze that seemed to sat we both have secret dreams, mine the theater and hers love. Then she said, "What is it about this country that makes one dream such big dreams?" I yawned sleepily and said yes, I knew what she meant, and look at Tovah with her union dreams. There is something in the air here in America that does this to people."
Characters
Edit
Main article: List of Dreams in the Golden Country characters
Adaptation
Edit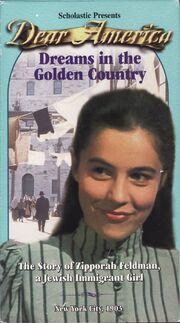 Main article: Dear America: Dreams in the Golden Country
A Picture of Freedom was adapted into a short television film in 1999. The film was produced by Scholastic Entertainment and aired on HBO. It was released on video tape the same year. Natalie Vansier starred in the film as Zipporah.
Main article: Kathryn Lasky
Kathryn Lasky (born June 24, 1944) is an American children's author. She is also known for writing The Night Journey, Wolves of the Beyond, and the Guardians of Ga'Hoole series. She is the author of four books in Dear America, five in The Royal Diaries, one in My Name Is America, and three in My America.
References
Edit
External links
Edit
Ad blocker interference detected!
Wikia is a free-to-use site that makes money from advertising. We have a modified experience for viewers using ad blockers

Wikia is not accessible if you've made further modifications. Remove the custom ad blocker rule(s) and the page will load as expected.