"It is most urgent that I record the troubling events of this week. Father has gone into hiding, having fled for his life. Through it is the twenty-third year of his reign, he is in danger of losing his throne. He is, of course, King Ptolemy Auletes, honored pharaoh of Egypt."
Cleopatra VII: Daughter of the Nile is a fictional diary written by Kristiana Gregory about the last Egyptian pharaoh, Cleopatra. The book was published in 1999 as part of Scholastic's The Royal Diaries. It was adapted into a television film by HBO in 2000. The book was also released in Mon Histoire and My Royal Story.
The young princess of Egypt, Cleopatra VII travels to Rome with her father, King Ptolemy Auletes.
Dedication
Edit
Book description
Edit
Cleopatra, princess of Egypt, lives in Alexandria with her father, Ptolemy Auletes; three sisters, Tryphaena, Berenice, and Arsinoë, and two brothers, Ptolemy XIII and Ptolemy XIV. One day, the king flees the palace, after a poisonous snake is found in his bedchamber. Cleopatra, fearing that her eldest sister may kill her, boards her father's ship to find assistance in Rome. In the meantime, Tryphaena crowns herself queen and pharaoh of Egypt.
In Rome, Cleopatra and her father stay with a wealthy citizen named Tullus Atticus and meet with several Roman officials, including Pompey the Great. Cleopatra dislikes Rome and starts to become homesick, when Tullus invites her to his summer villa. There Cleopatra spends time with her new friend, Julia, Pompey's wife and Julius Caesar's daughter. Unfortunately, King Auletes squanders his time and forgoes meeting with officials during Cleopatra's summer away. This forces them to stay in Rome throughout autumn and winter.
Back in Rome during February 56 B.C., Cleopatra meets Cicero, a Roman orator and lawyer. The two are fast friends, until he offends her by arguing against helping King Auletes at the Senate. This delays their departure again, because the Senate must hear all the legal complaints. Meanwhile, Cleopatra grows closer to Marc Antony, the chief cavalry officer, who will lead the soldiers to Alexandria.
The following winter, Cleopatra meets Cicero unexpectedly at Saturnalia. Cleopatra effectively rebuked them for his argument against her father. Some time later, Cicero withdraws his complaints, which allows King Auletes to leave with Roman support. Back at home, Auletes reclaims his throne and beheads his daughter for crowning herself queen. Cleopatra, preparing to be queen, decides to learn more about the Egyptians and travels up the Nile with her father's permission.
Characters
Edit
Cleopatra VII, the eponymous daughter of the Nile. She travels to Rome with her father to seek support, after a threat is made on his life.
Ptolemy Auletes, flees his palace in Alexandria, when a deadly snake almost kills him. In his absence, two of his daughters betray him and crown themselves queen.
Adaptation
Edit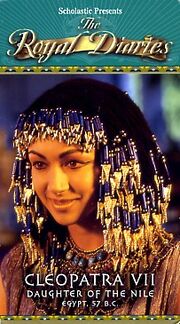 Cleopatra VII: Daughter of the Nile was adapted into a short television film in 2000. The movie was released on video tape the same year and on DVD in 2008. It starred Elisa Moolecherry as Cleopatra.
Kristiana Gregory (born 1951 in Los Angeles, California) is a children's author. Her debut novel, Jenny of the Tetons won the Golden Kite Award for Fiction. Gregory has written five books in Dear America, three in The Royal Diaries, and three in My America.
Gregory remembers studying Cleopatra in the fifth grade, picturing her with "beautiful clothes and jewels and [...] floating down the river in a fancy boat". She enjoyed researching her and had never imagined "that [Cleopatra] was so intelligent and could speak several languages."
References
Edit
External links
Edit
Ad blocker interference detected!
Wikia is a free-to-use site that makes money from advertising. We have a modified experience for viewers using ad blockers

Wikia is not accessible if you've made further modifications. Remove the custom ad blocker rule(s) and the page will load as expected.